Tips on pond fountains and what role fountains play in the fish ponds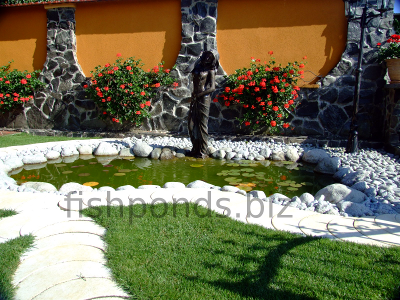 One of the most popular centerpieces to any pond has to be the addition of a pond fountain. Not only are these a great display piece, but also serve another purpose. They will also oxygenate the water. What could be more relaxing than sitting by the pond on a warm, summer evening listening to the splashing of the water!

There are several available to buy, deciding which one has to be based on the size and depth of your pond. There is no point adding a huge fountain to a small pond, it would just send water flying everywhere apart from back into the pond.

Fountains are not just restricted to ponds; they can even be created as a water feature for your garden. Simple to do, just sink a plastic reservoir, insert a small water pump attached to a fountain head and switch on. Easy as that!! If money is no object then the fountains can be very creative, making use of statues or something similar for the water to rise out off. These sorts of fountains can be very costly though. For most people's garden ponds a simple fountain is sufficient.

Fountains are available in kit form, this comprises of a water pump, tubing if required (a lot of fountain heads will actually fit on the water pump outlet), and various types of fountain head, depending on which type of water pattern you require. Make sure if you are buying one in kit form that it is rated for the depth of your pond, the reason behind this will be explained shortly.

Deciding which water pump you require depends entirely on the gallon age per hour it needs to pull through, plus the height that the water has to travel from pump to the top of the fountain head. This is not a problem when the fountain head is attached to the water pump and the stem is relatively short, but as in my case I had to run the water 3 feet from the pump to the outlet at the top. In this case I used a pump twice as big as usual to get the fountain to work effectively. If I hadn't, there would have just been a trickle coming out of the top.

Another way round this is to build a stand where the fountain is to be situated, sit the pump on top and secure it tightly; this will then reduce the distance. The principle behind this applies to all waterfall structures as well, in fact more so. It is well worth paying out for a kit from a well known supplier, rather than trying to cut corners as some of the cheaper kits do not come with very long guarantees.
There are several well known brands to choose from:-
Hozelock do a wide variety, they have water pumps priced from 25 pounds (50 dollars) for a 700 GPH pump up to 140 pounds (280 dollars) for a 7000GPH pump. The various attachments are relatively cheap to purchase, fountain attachments for as little as 6 pounds (12 dollars), varying lengths of stem pipe for 8 pounds (16 dollars). Complete pump and fountain kits can be purchased from this company for as little as 30 pounds (60 dollars), these mainly being designed for smaller ponds. Lights can be attached to these pumps for as little as 30 pounds (60 dollars), the effect is quite outstanding.
Oase also do the same range of products. Looking around at prices, they are slightly dearer than Hozelock but are definitely built to a high standard. The smaller pumps start at approx. 35 pounds (70 dollars) up to 180 pounds (360 dollars) for the larger GPH ratings.
Advertisement: Get a 10% discount on pond products (except for pond liners) at graystonecreations.com! Enter Aquafish10% in the coupon code section of the order form when you check out!
Also available are solar floating fountains. Very practical as everything is enclosed, the only downside being that they are not in a fixed position, unless secured of course, but being solar they do not require any electric to run them. To buy these you will be paying an approximate price of about 50 pounds (100 dollars)
If you shop around there are various fountain heads that are available to give you a choice of the water pattern they will produce.
Bell effect heads will force the water out in a formation similar to a globe, the water coming out in an even circle.
Blossom heads is probably most associated with the larger fountains, but is available on the smaller kits, where the water effect comes out like a tiered cake with varying levels of spout.
Frothy heads, as the name suggests is a single head of water coming out of the fountain, the difference being it is that well aerated, it looks like a froth.
As mentioned earlier, some ponds will have a statue fountain; these can vary in price from 200 pounds (400 dollars), right up to the price being in the thousands for the more elaborate designs.
Most suppliers will have a display so that potential customers can walk around with the fountains running, this will then help them get the effect they are really after.