Aquariums and Ammonia, Nitrates, Nitrites - Guide, Testing & Forum

Quick navigation – Answers
The nitrogen cycle is the process in which ammonia is converted to nitrite which is then converted to nitrate. This progression is made possible with the presence of ammonia and nitrite converting bacteria with the end result being a chemical compound known as nitrate.
Cycling:
When setting up a new aquarium it is important to first complete a thorough cycling so that the beneficial bacteria needed for ammonia and nitrite conversion can be established. In a mature aquarium it is important not to over clean the bacterial environment to maintain a healthy level of nitrogen cycling. Once nitrifying bacteria is present it can begin to metabolize the harmful ammonia produced by decaying plants, uneaten food and decomposing fish waste.
Process:
As previously stated ammonia is produced by decaying plants, uneaten food and decomposing fish waste. One group of bacteria's purpose is to convert the ammonia by binding it with water and the resulting chemical is nitrite. This is when another group of bacteria does its job. They take the nitrite and bind it with water forming the chemical nitrate. The presence of ammonia and nitrites are extremely toxic to fish while nitrate levels are less toxic unless harmful levels occur. By using a master test kit found in any aquatic retail store, you can test your aquarium water levels to check for the presence of these harmful chemicals. Frequent partial water changes can help prevent nitrates from collecting in harmful amounts in the aquarium.
Master test kit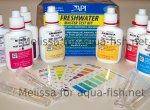 pH levels:
The pH of aquarium water can affect ammonia levels greatly. Water will contain two forms of ammonia: pure NH3 and the ammonium ion NH4 . Ammonia in its pure chemical state is more toxic than the ammonium ion, but both still pose a threat to the lives of your fish. Highly alkaline water contains higher amounts of pure ammonia while slightly acidic water contains higher amounts of the ammonium ion. The difference in the chemistry of the two substances is minuscule but the affects can make all the difference in the health of your fish. It is a known fact that ammonia poisoning is more common at high alkaline pH levels.
Ammonia:
Ammonia (NH3) is a chemical that is highly toxic to fish even in small amounts. Ammonia toxicity causes severe stress to fish making them more susceptible to disease and death. This chemical also causes damage to gill membranes and inhibits normal respiratory function. It is important to test the aquarium regularly for this chemical; once a month if your tank is healthy but more often if there are signs of sickness or death. When using a testing kit ammonia traces should be undetectable in your results. The test results are measured in ppm or parts per million and your results should ideally read 0ppm. If any traceable amounts are present there are ammonia converting chemicals that can be found at aquatic retail locations. This chemical doesn't remove ammonia from the water but it helps to convert the highly toxic form into a less toxic version allowing it to be oxidized through a bio-filtration system. Carbon can also be used in the filtration process to help remove ammonia to improve water quality. It is important to check daily to see if your filter is clean and running properly. If a filter gets too dirty or breaks down it could result in the presence of toxic ammonia in the tank. Take special care to not over feed the fish not only for their well-being but also because this is important in aquarium maintenance and filtration care. Do not overstock the aquarium because more fish mean more waste. When using medications be sure to test water levels because bacteria can be sensitive to foreign chemicals resulting in the inability to oxidize ammonia. It is important to clean the aquarium regularly but it is also very crucial to remember not to over clean the bio-filter. This mechanism plays an important role for the bacterial population in the aquarium, without which the nitrogen cycle cannot take place.
When the ammonium ion (NH4 ) is mixed with water the beneficial bacteria can then convert the ammonia into nitrite (NO2-). Much like ammonia, nitrite is also toxic and can be harmful towards fish. If traces of nitrites are in the aquarium it can cause severe stress to the fish. This leads to respiratory hardship and a weakened immune system, which makes the fish more susceptible to disease and death. To prevent this from happening you must be sure to test for nitrite periodically just as you would for ammonia. When testing for ammonia, having a result of 0ppm is not an indication of what your test results should be for nitrite or nitrate. It is very important to test for each substance individually as part of your routine aquarium maintenance.
Nitrate:
When the substance nitrite (NO2-) mixes with water the beneficial bacteria can then convert the nitrite into nitrate (NO3-). This substance called nitrate is seemingly harmless towards fish but in higher concentrations it is not. Unlike ammonia and nitrite, nitrate can be present in the aquarium as it usually is to a certain extent. In the past it was believed to be harmless towards fish but studies show that the over concentration of this chemical in the aquarium can have adverse effects on the health and wellness of fish. If there is an over abundance of nitrate in the tank it could be an indication that there is too much fish and plant waste. If not dealt with properly, this problem will inevitably lead to diseased, unhealthy fish. Another consequence of too much nitrate is algae. Nitrates promote the growth of algae which can result in a cloudy tank with increasing amounts of the toxic ammonia and nitrite. This is why it is so important to test for nitrate even though it's ok to have a slight amount in the aquarium. Your nitrate test results should be 40ppm or less, the lower the better. If your nitrate test results show that excessive amounts are present there are several ways to remove enough nitrates for the aquarium water to be safe once again. Partial water changes should be performed at once if the levels are exceedingly high. A tap water filter can be used to remove all chemicals from the water including ammonia, nitrite and nitrate. If this does not produce satisfactory results you might want to try a nitrate removing filter.
Fishless Cycling:
As stated before, aquarium cycling is a very important step in starting a new aquarium. Without the beneficial bacteria present to break down ammonia and nitrite the first tank residents will most likely not survive. A method called fishless cycling was created to start new aquariums without risking the lives of the first fish to live in it. This method is also a quicker route to forming the much needed bacteria. It takes up to three weeks instead of up to 6 weeks. When a tank is set up pure ammonia is added to the water. Additional doses of ammonia are added each day and daily tests are done to monitor ammonia levels. Once the bacteria for breaking down ammonia is established you'll see the ammonia test results quickly drop to 0ppm. Continue adding slight amounts of ammonia daily to give the nitrite levels a chance to go up. The presence of nitrite will bring about new beneficial bacteria whose purpose is to deal with the conversion of nitrite to nitrate. Once the water test results show traces of nitrate, do one more partial water change, wait awhile and then test again for ammonia, nitrite and nitrate. If the results of the tests are favorable you are now ready to stock your tank with new fish. The new fish waste will be the source of ammonia needed to continue the nitrogen cycle.
Tips on how to safely clean your aquarium:
Once you have established a colony of beneficial bacteria you do not want to harm it. Cleaning your aquarium is essential to the good health of your fish but keeping all of those good bacteria is just as important. This is why it is essential to do partial water changes. Keeping some old water in the tank at all times will give the bacteria that are still present a chance to multiply and replenish. Full water changes will wipe out too much of the bacteria which may allow a spike in ammonia and nitrite levels resulting in possible death. Another important thing to remember is not to use any cleaning chemicals that do not specify safe for use in aquariums. Bacteria are very sensitive to chemicals and you would not want to kill your colony of beneficial bacteria. If you need to clean any filter cartridges, it is a good idea to rinse them in the water removed from the aquarium because this water already contains the bacteria.
Water test results:
In this case we used two different aquariums to perform a series of tests on. The test results show the difference in pH, ammonia, nitrite and nitrate levels of a healthy tank to an unhealthy tank. Here you can see what the test results of an acceptable tank looks live versus the test results of an unacceptable tank.
In "tank A", partial water changes were performed every 3 days, the fishes were fed as recommended on the food label and the tank was not overstocked with fish. The pH, ammonia, nitrite and nitrate levels were tested and the results proved it to be a healthy tank.
Tank A

pH level 7.6

Ammonia level 0ppm

Nitrite level 0ppm

Nitrate level 5ppm
In "tank B", no water changes were performed for 2 weeks, the fishes were overfed according to the recommendations on the food label and the tank was overstocked with fish. The pH, ammonia, nitrite and nitrate levels were tested and the results proved to be unhealthy by the recommended standards.
Tank B

pH level 7.0

Ammonia level 0ppm

Nitrite level .25ppm

Nitrate level 50ppm
| | Tank A | Tank B | Optimum levels | Analysis |
| --- | --- | --- | --- | --- |
| pH | 7.6 | 7.0 | Between 7.0 and 7.6 | The pH levels for both aquariums are within the acceptable parameters. |
| Ammonia | 0ppm | 0ppm | 0ppm | The ammonia levels for both aquariums are at the acceptable level. |
| Nitrite | 0ppm | .25ppm | 0ppm | Tank A is healthy and has no detectable nitrite. Tank B shows the presence of nitrite which is not acceptable. Immediate maintenance should be performed on tank B. |
| Nitrate | 5ppm | 50ppm | Below 40ppm | Tank A is healthy and contains nitrate within acceptable parameters. Tank B contains levels which exceed the acceptable amount. Immediate maintenance should be performed on tank B. |
Using a master test kit in your regular aquarium maintenance routine can prove to be very useful. By detecting harmful chemicals early you can take action to prevent unhealthy conditions in your tank. Doing what is necessary to maintain healthy water levels in your aquarium will allow you to enjoy the company of your fish for a long, long time.
Additional questions and answers
Since many of aqua-fish.net's visitors come here searching for particular and repetitive questions, the frequently asked ones have been compiled and answered below. Please, note that ideally every visitor of our website should read the article that is located above in order to understand every piece of answers shown below especially if you such a visitor is a newbie.
Another useful article on the web