TetraMin Flakes Review
TetraMin Flakes is a fish food produced by Tetra which is the leading brand for flaked fish food in the aquarium industry today. For over 50 years, Tetra has perfected this product which was the first of its kind; an easy solution to feeding fish in the form of non-perishable flakes. The founder of the Tetra Company, Ulrich Baensch, created TetraMin, this convenient, less messy food to make it easier for aquarists to feed their pet fish. This food source for a wide variety of aquarium fish was supposed to promote health and vibrant coloration. Continual product research has put the Tetra Company on the top with a well known and trusted product.

TetraMin is formulated to give aquarium fish maximum nutrition while not clouding the water. This product has been tested again and again to come up with more practical and convenient ways to feed your fish. The container itself is easy to use and it is practical with its sliding dispenser lid. The newest formula of TetraMin Flakes boasts that it provides more protein and less fat allowing the fish to consume a healthier diet. The flakes contain natural color enhancers to make the colors on your fish become as alive as they are. The Tetra Company has even produced a more digestible food ensuring more of the particles will be eaten and not left to pollute the water.

TetraMin Flakes have been formulated to provide vitamins and Omega-3 fatty acids in order to boost the immune systems of your fish. Since I started using TetraMin Flakes I have not had a single outbreak of illness of any sort and my aquarium has been cleaner than ever.

There is only one slight drawback and that is this product is not the cheapest food on the shelf. It is not all that expensive, it is still a very reasonable price; but I almost did not buy it when I looked at all of the containers on the shelf. Any aquarium hobbyist would instinctively just get which ever flake food was the cheapest because we expect that one brand of fish food is the same as any other. Upon further examination and quite a few long minutes of reading nutrition labels, I discovered that the few extra pennies per ounce might be worth it when it comes to the health of my fish. I did notice there was more vitamin C, which is very important. Just as I would make healthy choices for myself, I had to also do it for my fish. Not only is it good for their health, it is also good for their future.

I was researching products to see which of them were best for my fish and I saw that one consumer pointed out his fish had a preference of which colored flakes to eat first. When I watched my own fish to see if they had a preference I noticed they all went after the red flakes first. Once those were gone they went after the rest of the flakes. It was a weird realization to see that fish were actually picky eaters.

When comparing TetraMin Fish Flakes to Wardley Essentials Tropical Premium Flakes, I noticed there was an equal amount of protein in each product. As for fat content, there was 2% less fat in the TetraMin Fish Flakes. Less fat and more vitamin C was the main selling points for me. Additionally, when side by side, the TetraMin Flakes look ten times more appetizing than the Wardley Fish Flakes. Wardley boasts that their food contains color enhancers but it does not look quite as convincing as TetraMin.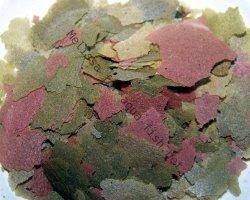 Wardley Essentials Tropical Premium Flakes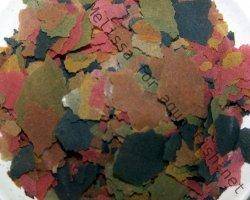 TetraMin Tropical Flakes
TetraMin Flakes should be fed according to the directions on the back of the container. Feeding should take place 2-3 times a day and only what your fish can consume within a few minutes. These flakes are designed to be slow dissolving in order to not cloud the water. When used according to directions TetraMin Tropical Flakes are backed by a cleaner and clearer water guarantee. It also promises to provide your fish with a nutritionally balanced diet for optimal health, color and vitality.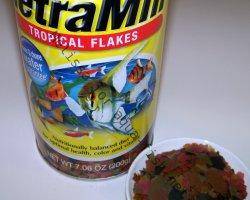 TetraMin Flakes
Sources