Benefits of adding rocks to aquariums along with pictures & links to online suppliers of aquarium rocks
Brief Description
This article answers questions about rocks in aquariums and offers tips on decorating your tank with rocks. There is a form at the bottom of this page and we'd love to hear about rocks in your aquarium - Types, what species of fish you raise and if there's anything you'd like to ask, we'll gladly answer. There is also another page that you should visit: Varieties of River Rocks. If you'd like to purchase aquarium rocks online, simply follow this link, you'll be taken to a list of online suppliers.
Introduction to aquarium rocks
Rocks can be used as decorative elements in an aquarium while providing hide-outs and homes for the fish that reside there. Aquarium rocks provide caves and zones, a surface to lay eggs on, and a place for algae eaters to graze upon. Rocks come in all different shapes and sizes and are made out of all sorts of different materials. Pay special attention to the type of rocks you use in your aquarium because not all rocks are safe for fish.
Rocks that are good for the aquarium do not crumble, erode, or leach harmful chemicals into the water. Slate, granite, and quartz are all examples of good rocks that can be used in the aquarium without harming the inhabitants. Avoid using rocks such as lava rock and marble. Lava rock is known to have plenty of sharp, jagged edges that can scratch a fish if it swims to close to it, or the mouth of a sucker fish attempting to graze upon it. Marble will alter the chemistry of the water causing the water to become too hard for most fish to survive in. Testing water regularly is one way to be sure that the rocks you are using are not harmful to the fish in the tank. Never trust a rock that is store bought just because they say it should be safe for the fish. If you really want to know if a rock is safe, soak it in a bucket of water for a few weeks and test the water. If the tests show that it does not alter the water chemistry the rock is safe to use in the aquarium.
Rocks can be used in a variety of ways that can be both pleasing to the eye and practical for your fish. Aquarium gravel is tiny rocks used to cover the bottom of the tank to prevent fish from becoming disoriented. If a fish can see its own reflection in the bottom of the aquarium it can cause the fish to become puzzled as to which way is up which causes the fish stress. Gravelly substrate is practical in that it provides an anchor for plants and it houses the much needed, nitrifying bacteria. Algae eating sucker fish find the gravel useful because it provides increased surface area upon which algae can grow. Fry use gravel to hide themselves from predators for survival. Aquarium gravel can be bought in a variety of different colours, sizes and textures to suit the décor of the tank. It is used for the foundation upon which to build the exciting underwater scenery in which your fish will reside. Gravel can be collected from the wild but all the normal precautions still apply. Gravel can also be store bought wherever aquarium products are sold. If you do not want to use gravel larger stones can be used to cover the bottom of the aquarium. Sand should be laid across the glass first to prevent the larger, heavier stones from cracking or scratching the bottom.
Coloured Gravel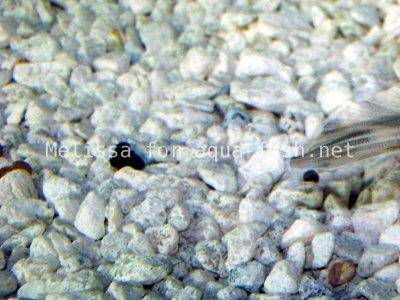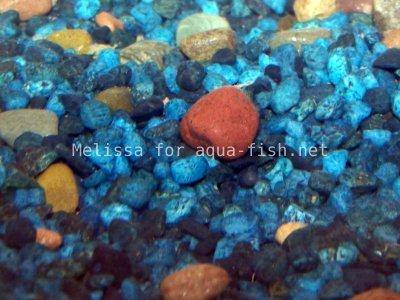 Natural Gravel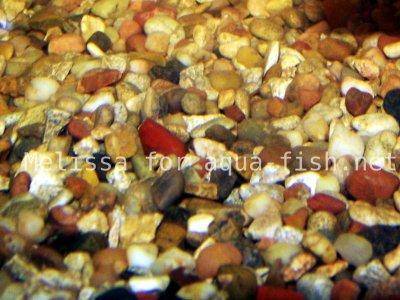 River stones are smooth stones that are polished and flattened by the natural currents of river and stream water. These stones can be stacked or piled to form caves for fish to hide in. Because they have been in water for so long they are generally safe for use in the aquarium. Just be sure that the stream or river water is clear of chemicals and pesticides that may poison the fish. When using river stones it is recommended that you use a silicone adhesive that is safe for use in aquariums to secure the rocks to one another. This prevents cave-ins that can be harmful to unsuspecting fish seeking refuge within.
River Stones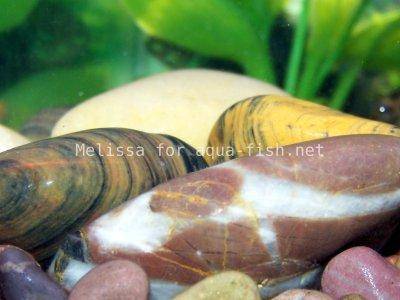 Slate comes in flat slabs that can be used in combination with other types of rocks to form layered caves. Using slate is an easy way to construct strong and sturdy caves for larger fish. You can use the levels of slate as platforms to place plants or other aquarium ornaments on. Aquarium safe silicone sealant should always be used to secure these heavy materials to prevent harm to your fish.
Live rock can be purchased for use in marine aquariums. This particular type of ocean rock is covered with small colonies of marine life and can help to enhance the water quality in a marine aquarium. The rock itself is made of old coral that has long since died and has broken off into smaller pieces. Smaller organisms make their homes in the small cracks and crevasses of the coral.
Some aquatic plants are sold anchored to rocks for weight and stability. These are plants that have the ability to grow even when their roots are not submersed in any type of substrate. When the plants are removed from one anchor their roots are tied to another rock or log until the plant's roots are securely latched onto its new base. The only problem that might occur with these plants is that they are usually anchored onto lava rock which, as mentioned before, can be harmful to the fish. You can still use this type of rock plant if you want to but it might be best to submerge the lava rock into the gravel to prevent injuries.
Synthetic rocks can be purchased from aquarium retail stores and websites. They can be fairly expensive and the larger it is the more it will cost. Synthetic rocks start as low as $4.00 for the smallest, plainest structures and can cost as much as $90.00 for larger, more detailed specimens. They serve the same purpose as natural rocks and stones but never alter the chemistry of the water. Synthetic rocks are formed to mimic natural looking rock and cave formations.
Slab rock is merely a chunk of rock.
Branch rock is made to look like branches almost like petrified wood.
Reef rock looks just like a part of a reef with lots of uneven dimples and holes.
Tube rocks are rocks in the shape of a hollowed out lava tube.
Cave rocks can come pre-made as a cave or you can get puzzle-like, snap together rocks that you can be fit together to construct a unique cave of your liking.
Synthetic Rock Cave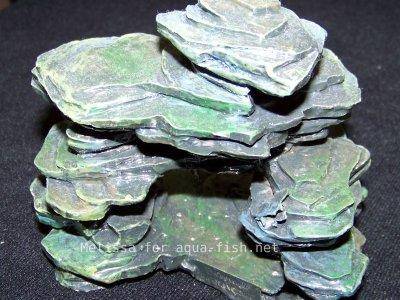 Synthetic rocks can also be found in the form of an air dispensing aquarium ornament. The purpose is to disguise the air dispensing device to have it look like an element of nature while providing the much needed oxygen into the water. This is just a productive way to disguise yet another much needed maintenance device.
Aquarium rocks are a great way to provide a natural looking environment for your fish. They add beauty as well as boundaries to your underwater environment. Although fish can live without rocks, an aquarium seems incomplete without them.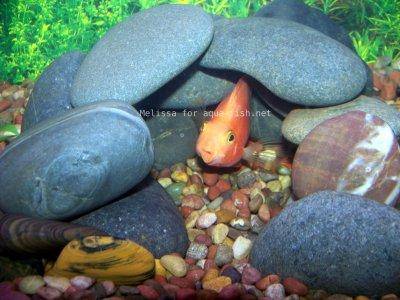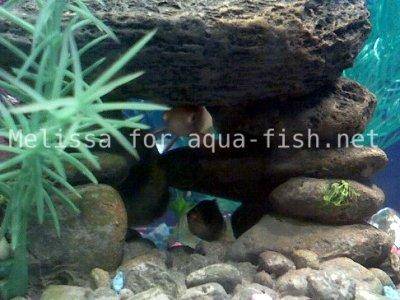 Sources
Questions and answers
On March 23th 2011 we added the following questions&answers here due to merging aqua-fish.net/answers with related articles; You're welcome to post own questions too as long as they're unique and not yet answered on this page!
Where to find rocks for aquariums?

Answer: The best is to ask some other aquarist. Naturally, rocks in rivers are usually good since they're of many shapes and sizes, and they're free of charge. Here at aqua-fish.net we prefer lakes, however. If you're following this advice make sure there are fish in such a river/lake, otherwise these rocks may contain poisonous substances. Also make sure that rocks don't contain too much Calcium by spilling some vinegar on the rock, and if it bubbles it means the rock is full of Calcium thus recommended for African cichlids only.

What types of rocks can I use in an aquarium?

Answer: You can use just about any type of rock in an aquarium providing it is very clean, some great examples are granite, slate, volcanic glass, quartz, and Texas holey rock. Any of these can be used to create caves, and break up the territory in an aquarium. When picking a local rock one thing to watch for is rust staining as this may be an indication that there are some harmful aspects to the rock that may drastically affect your tanks pH. Consult a local geologist or natural history museum for more details on what kind of rock can be found in your area.

What kind of stones can you have in an aquarium?

Answer: The most common stones are those purchased at a local pet store, however natural and collected stones may be used as well. Some natural stones, like sand stone, may contain elements that will severely affect your aquariums water quality and pH (watch for rusting and staining as a weak guideline). Either way all stone should be thoroughly rinsed before adding it to the aquarium.
Online suppliers of aquarium rocks
If any of links from the below-shown list doesn't work, tell us via the form that is at the bottom of this page, please! If you'd like to suggest an online shop selling rocks, feel free to recommend it via the same form!